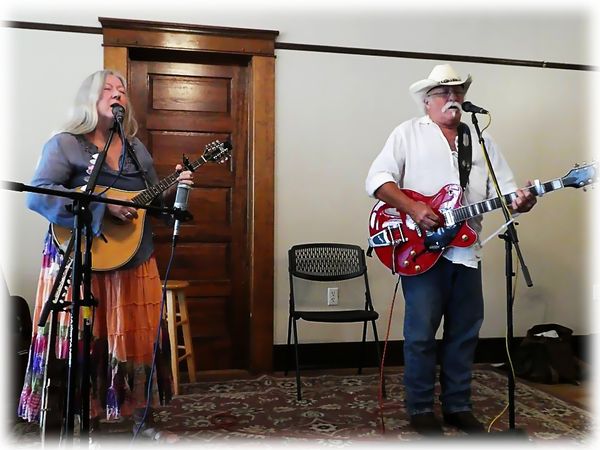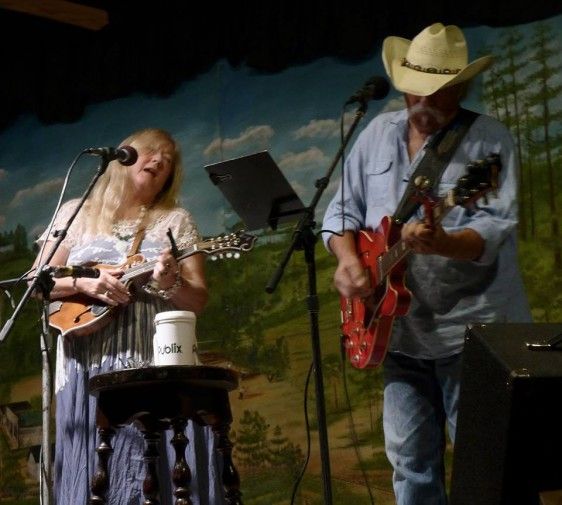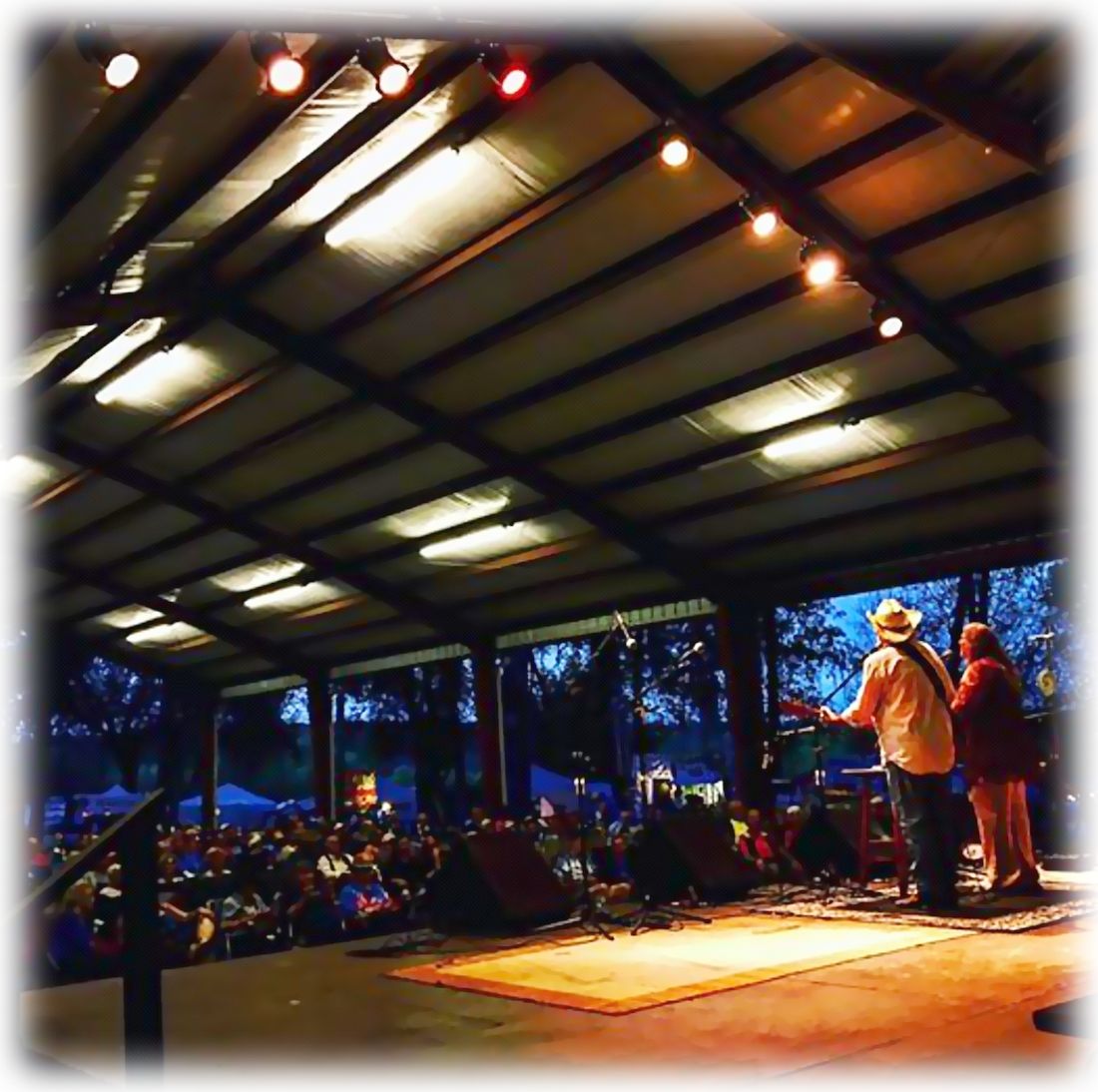 Lucky Mud plays SwampyTonk and Folkabilly. The unlikeliest of combinations and the most descriptive form of Mud Music. 
 October 10th, 2018, a Category 5 Hurricane named Michael devastated our home and land. Compared to the tens of thousands of people around us we are very charmed and grateful to our community and the community of Florida Folk singers, who gave over ten thousand dollars through us and other volunteers to the survivors of this catastrophe. We will be eternally grateful for their help, in which their dollars were translated into food, sleeping bags, blankets and so many necessary items that kept our neighbors alive. 
We will be there at any time to return the favor.
Nothing is better than having friends with chainsaws. 
Now, over two years later, there are still thousands of homeless, thousands of damaged and destroyed houses and businesses - and over 90 percent of our forests were also decimated. And they remain decimated. 
Over a year ago we switched our Americana Cafe Sundays concerts here to Maggie's Musical Farm - to our beautiful stage and our beautiful covered pavilion amidst the broken trees.
There is an old Japanese poem that, translated, says, "Barn Burnt Down. Now I Can See The Moon".
It's how we have to see our new world. Thanks for sticking with us as we left these pages alone too long.
Mud photos. First, at our regular Sunday concert, which we called Americana Cafe Sundays when we held our shows at Roberts Hall (Now here at Maggie's Musical Farm), the second at the Train Station in Dunellon, Florida, and last on the Magnolia Stage (Mainstage) at the Will McLean Festival near Tampa in March.
The Will Mclean Festival is a beautiful festival that gathers together singer/songwriters every March to celebrate the life of Will McLean, Florida's Troubadour. 
The pandemic has taken a toll as well with the music community. No one is touring but we're all trying to find ways to communicate with our music. Playing live music has always been more of a lifestyle than a livelihood. It's something we do because we need it as much as the audience.
Now we all wait and hope for an end to the virus.
 Our latest CD is called Mud on the Saddle, a collection of 12 original Cowboy/Western songs featuring lots of yodeling and great lyrics. Our last CD, Feelin' Lucky, as available through this website or through CD Baby at either https://store.cdbaby.com/new/985
or https://store.cdbaby.com/new/360
Feelin' Lucky can also be heard at luckymud.hearnow.com
All 15 Lucky Mud CDs are available online on CD Baby and at Kunaki.
"This local husband-wife folk duo seems to always have new music up their sleeves. Their newest full-length album is a mix of folky, southern-inspired whimsical tunes like "Blackberry Jelly" and stories about people who didn't quite do right ("Amber Alert"). But it's the two ballads that steal the spotlight with emotional intimacy and authenticity." - Nikki Hedrick
" "Lucky Mud is from the deeper side of Folk Music. The couple have a soulful connection that is palpable." -EARBUZZ "
"This folk duo whips up 14 songs on the topics of love, loss and longing on their CD Into the Night. With a penchant for storytelling, the pair is out to revive a bare bones approach to traditional American folk music. Highlights include "All I Know"—as the duo's harmonies lead the way through the chorus and lyrics—to the surprisingly dark "Who Am I?" - Nikki Hedrick/ Beachcomber Magazine 30A
Don't forget, our Americana Cafe' Sundays concerts are now at Maggie's Musical Farm.
Here are a few of our guests who've graced the concerts over the last seven years, and now we've finished our seventh year. We wait impatiently for the music to return.
Rupert Wates
Bradford Loomis
Webb Wilder
John Butler
Connie Laine
Jacob Johnson
Finn Magill and Alan Murray
Natalie Gaza
The Paul Brock Band from County Clare, Ireland
Qwerty
The Wide Open
Well Worn Soles
Dr. David Evans
Rick Hardeman
As Scortino
Remedy Tree
Fellow Pynins
Carly Bak
Well Worn Soles
Panama Red
Rachel Grubb
Uncle Dave Griffin
Tom Kimmel
Lis and Lon Williamson
Matthew Fowler
The New 76ers
Eric Taylor
Sally Spring with Ted Lyons
Kamm and MacDonald
Bing Futch
Brian Smalley
Frank Lindamood
Larry Mangum
Gary Nichols
Well Worn Soles
Blues duo DieDra and Keith Ruff
Strangled Darlings
Dana Cooper
Brother Brother
Passerine
Wyatt Espalin
Steve Gillette with Cindy Mangsen
Shelita Burke
The Currys
Nikki Talley
Carly Bak
Michael Jordan
Too Many Smiths
Kieth Rae
Lauren Heintz
Norm McDonald
Sarah Watts
Frank Julian
Mimi Hearn and Frank Graham
Friction Farm
Pierce Pettis
Middleground
Jig to a Milestone
Marvin Lee
Matt Prater
The Sarah Mac Band
Buddy Mondlock
Clint Singleton
Nikki Talley
The Florida Music and Food Initiative
Slim Fatz
Brian Cairnes
The Obscure Brothers (Bob Patterson and Charley Simmons)
Elaine Mahon
Richard del Val
Lydia Smith
Roy Schneider and Kim Mayfield
Granville Automatic
Cole Washburn
Grant Peeples
Mean Mary
Charlotte Moreau
Ellen Bukstel
Scott Wetter
John French
Katherine Archer
The Bridget Kelly Blues Band
Kristen Barkaloo
Frank Julian
Belmont and Jones
Passerine
Michael Koppy
This Frontier Needs Heroes
Aerial Melvin and The Boys
Jackson Creek
Simple Folk (Paul and Kay Garfinkle with Al Scortino)
Alicia McGovern
Paul Kamm and Jonny Mojo of the Powerhouse band Achilles Wheel
Dana Cooper
Lucky Mud
Ken Skeens and Lee Goldsmith
Dan Gribbin
Beaucoup Blue
Leigh and Steve Humes
Charlie Groth with Linda Pottsberg
Pat C
The Gail Carson Trio, with Carly Bak and Carolyn Dunn
Amy and Joan Alderman
Andy Dubois
Kelly Hundley
Emmett Carlisle
The Tinkers
Ron Johnson
Brian Kennedy
M.T.Pawketts
Rebekah Pulley
Bob Patterson
Hananel and Friends
And many, many more.
Join us at Maggie's Musical Farm for Sunday afternoon concerts. Sit under the Ho-tangle Mud Hut and enjoy amazing singer/songwriter performances from our beautiful Pecky Cypress stage. 
Come and camp with us by making your reservations at Hipcamp.com/florida/maggie-s-musical-farm
And lots more.
Keep in Touch!